We are A Google Street View Trusted Agency
Choosing the right restaurant, cafe, hotel or store is often tough. Build trust with a high-quality virtual tour that lets people experience your location before they arrive.
These immersive, virtual experiences inspire greater confidence among prospective guests and patrons. As a Google Street View trusted professional Agency Creations Arena Virtualtours.lk can help you more easily create and publish your virtual tour.
Google Maps Business View is an interactive 360º virtual tour that can be used for your Business. In other words it is an indoor version of Google Street View.
So that prospective customers can virtually visit your restaurant, café, hotel or store and interact with your facilities online and explore from anywhere in the world and from any device.
Creations Arena is a Google Street View Trusted Agency to create Google Maps Business View, and we are listed on the Google Street View Official website as well.
What is Google Street View for Businesses or Google Maps Business View?



"Google Maps Business View" is allowing your prospective customers to walk through your hotel, restaurant, cafe or showroom and look around your business premises virtually.
If it is a hotel for an example, one of the great advantages of the "Google Maps Business View" is that a prospective customer can see the hotel before they come, so they can get a really good idea of what your hotel has to offer, before they even come into the hotel.
Click on the video left to see how amazing things can be done with "Google Maps Business View"
Show Up When it Matters Most
Invite customers in with indoor Street View of your business on Google Maps and Search
Google Search
Your Google business listing is your company's most visible asset. Improve your presence with Street View content.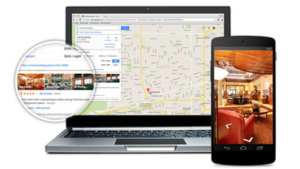 Google Maps
Plant your flag. When prospective customers seek you out on Google Maps, help ensure that their first encounters are great ones.
Hotel Searches on Google
Give travelers a virtual tour of your hotel or restaurant when they find your property on Google Search or Google Maps.